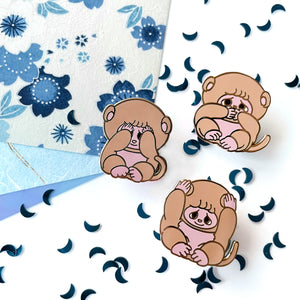 Monmo is a sweet little monkey boy who lives in snowy mountains of Japan. He and his family enjoy relaxing in the natural hot springs in the mountains he resides. Once, a visitor from one of the nearby villages took a soak and forgot his bento filled with the standards like onigiri and umeboshi, as well as some exotic treats like a banana. Bananas don't grow naturally in the cold and snowy mountains, so this was a total treat for Monmo. After indulging in the banana he has since dreamt of the next time he'll get to try another!

Details
Size: Three 1" Pins
Material: Gold-Plated Hard Enamel
Backing: a Rubber Clutches
Quality: Standards
Learn more about pin grading here.
Extra Features: Shishido Creative Backstamp, Unique Backing Card
Shipping
Estimated Delivery: We ship from Seattle, WA via USPS First Class. It takes about 2-3 days for domestic orders. For international orders, it takes about 1-6 weeks depending on location. Learn more about shipping here. We now have the option to add insurance here!