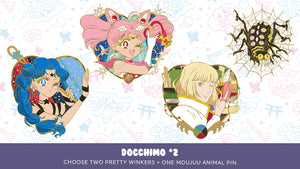 "Docchimo" means "both" or "either" in Japanese, so in this club you'll get everything from the monthly Moujuu Animal Club as well as your choice of two Pretty Winkers from either SG or Pretty Soldier themes. A full list of what you'll get:

♥ One (1) Moujuu Animal Hard Enamel Pin
♥ 1 Animal Trading Card Print
♥ Vinyl Sticker Sheet
♥ Monthly Theme Info Sheet
♥ Two (2) Winking Character Hard Enamel Pin
♥ Pretty Winker Trading Card Print
♥ Shipping Included for US
     International Members please choose the international tier
♥ Private Blog Posts
♥ Secret Shop Access (permanent discounts on almost all products, plus exclusive drops and products)

Long-term pin club members will receive time-based rewards at 3/6/12 month intervals.
To learn more about how our pin club works, please read the FAQ here.