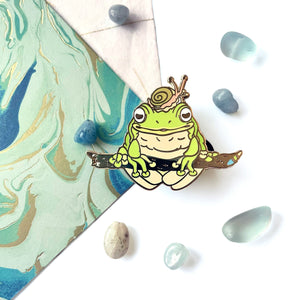 Tsuyu is the rainy season in Japan where little froggies come popping out from everywhere. All June you can spot frogs in popular goods, stationery, foods, and in the wild. Ever so slightly inspired by a favorite Froggy character, we added a little snail buddy to join him in this design! Perched on a golden branch with a hidden houju, this pairs well with our Ume to Mejiro design.
About the Collection
This was the June theme pin for Pin Club. Our Pin Club is themed around Japanese Traditional culture and features a monthly Enamel pin, sticker sheet, and exclusive art print. By joining our club, you save quite a bit to have more than just buying the pin on our website as it also includes the extra goodies and shipping in the cost. Check out the Patreon Pin Club here.
Details
Size: 1.5"
Material: Gold Hard Enamel
Backing: 2 Rubber Clutches
Quality: Standard
Learn more about pin grading here.
Extra Features: Shishido Creative Backstamp, Screenprinting, Unique Backing Card
Shipping
Estimated Delivery: We ship from Seattle, WA via USPS First Class. It takes about 2-3 days for domestic orders. For international orders, it takes about 1-6 weeks depending on location. Learn more about shipping here. We now have the option to add insurance here!
If you are ordering with a pre-order item, it will ship when pre-order arrives.