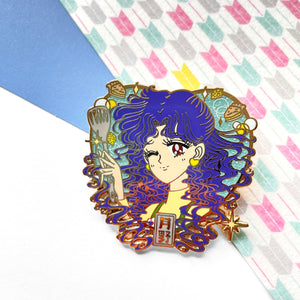 A magical girl can't fight on an empty stomach and Cutie Moon's mama serves up the best treats! Mama always starts her day right with breakfast (though she usually wakes up too late), packs her bento, and makes the most tasty desserts! Sometimes she has to scold her to be a better student. But for all the nagging, this Tough-Lovin' Mama loves cutie moon so tenderly and only wants to see her grow up strong! Bring her home for those times you need some motherly love and encouragement!
Details
Size: 2"
Material: Gold-Plated Hard Enamel
Backing: 2 Rubber Clutches
Quality: Collector - Jacket-Ready - B-Grade
Learn more about pin grading here.
Extra Features: Screenprinted details, Glitter, Cutouts, Custom Backing Card
Shipping
Estimated Delivery: We ship from Seattle, WA via USPS First Class. It takes about 2-5 days for domestic orders. For international orders, it takes about 1-3 weeks depending on location. Learn more about shipping here. We now have the option to add insurance here!
If ordering along with a preorder, the entire order will not go out until the preorder has arrived.