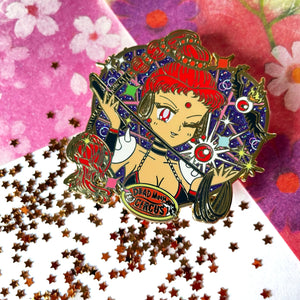 The youngest of the Amazoness crew, she tames beasts, will she also tame your heart?
Designed to pair with her sisters, Circus Swingin' Sweetie, Playful Juggler, and Tightrope Toughie!
About the Collection

After we created the Cutie Moon pin, we just knew we had to complete the collection of Winking Magical Girls. Each girl has her own unique charm and we hope to convey that appeal whether you want to collect them all or just your favorite girls (or boy)!
Details
Size: 2.13"
Material: Gold-Plated Hard Enamel
Backing: 2 Red Rubber Clutches
Quality: B-Grade
Learn more about pin grading here.
Extra Features: Screen Printed details, glitter & 6 cutouts, Custom Backing Card
Shipping
Estimated Delivery: We ship from Seattle, WA via USPS First Class. It takes about 2-3 days for domestic orders. For international orders, it takes about 1-6 weeks depending on location. Learn more about shipping here. We now have the option to add insurance here!
If you are ordering with a pre-order item, it will ship when pre-order arrives.