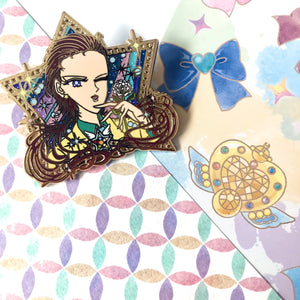 Search for your love!
The most studious and determined of the trio, our Sapphire Star is sure to help you reach your goals. Pair them with our Bubble Baby and you're sure to excel at whatever you aim for. Unique from our other winking pin designs, the shape of this design is in a star instead of a heart to reflect their arc.
Details
Size: 2'" wide
Material: Gold-Plated Hard Enamel
Backing: 2 Rubber Clutches
Quality: Jacket-Ready - B-Grade
Learn more about pin grading here.
Extra Features: Screenprinted details, Glitter, Recessed metal & cutouts, Custom Backing Card
Shipping
Estimated Delivery: We ship from Seattle, WA via USPS First Class. It takes about 2-3 days for domestic orders. For international orders, it takes about 1-3 weeks depending on location. Learn more about shipping here. We now have the option to add insurance here!