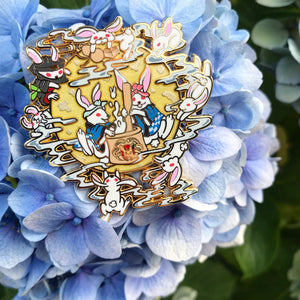 Otsukimi is the Moon-Viewing festival celebrated in honor of the Autumn harvest. These buns are all ready to party the night away! Won't you invite this bunny brigade to join you? Loaded with features, this design was one of our most ambitious yet, with a transparent pearlescent enamel in the moon that allows the moon's craters to peek through, 3 screen prints, recessed metal, and lots of cutouts as is our signature.

Details
Size: 2.25"
Material: Gold-Plated Hard Enamel
Backing: 2 Rubber Clutches
Quality: Collector
Learn more about pin grading here.
Extra Features: Shishido Creative Backstamp, Screenprinting, cutouts, transparent pearlescent enamel, recessed metal, Unique Backing Card
Shipping
Estimated Delivery: We ship from Seattle, WA via USPS First Class. It takes about 2-3 days for domestic orders. For international orders, it takes about 1-6 weeks depending on location. Learn more about shipping here. We now have the option to add insurance here!