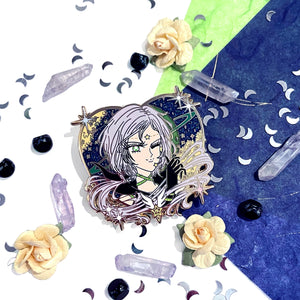 the sassy sister of the bunch, Emerald Light fights alongside her sisters-in-arms to protect the remaining planets (at least the ones with cats on them) and search for their long lost Princess.
Details
Size: 2'" wide
Material: Gold-Plated Hard Enamel
Backing: 2 Rubber Clutches
Quality: Collector • Standard •  B-Grade
Learn more about pin grading here.
Extra Features: Screenprinted details, Glitter, Translucent enamel, cutouts, Custom Backing Card
Shipping
Estimated Delivery: We ship from Seattle, WA via USPS First Class. It takes about 2-3 days for domestic orders. For international orders, it takes about 1-3 weeks depending on location. Learn more about shipping here. We now have the option to add insurance here!