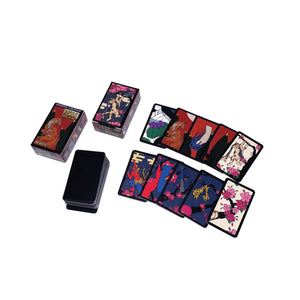 Designed as part of our 2021 Yokai club, each set of four cards coincides with the monthly theme (kitsune, kappa, tengu, etc). There are 48 cards sized in the traditional Japanese card size. This set has been popular at events and for the first time we are making it available on our website!
What are Hanafuda?
Hanafuda translates literally to flower card, and were cards meant to be played in games. There are 48 cards in a deck, with 12 sets of 4. Each set represents a different season or month in Japan and features the flower of that season. Our designs also include a yokai for each set of four. See the game instructions here if you already purchased a set!

Estimated Delivery: We ship from Seattle, WA via USPS First Class. It takes about 2-3 days for domestic orders. For international orders, it takes about 1-6 weeks depending on location. Learn more about shipping here. We now have the option to add insurance here!