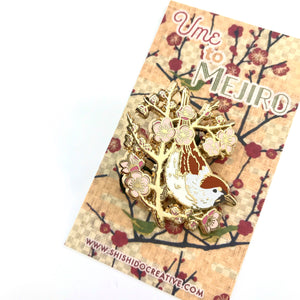 A new take on our Ume to Mejiro design, this variant features a suzume (or sparrow) like the cute little messenger bird of a popular crybaby swordsman. Featuring golden branches, the little addition of color at the base of the branch is actually a houju, a symbol of purification in Shinto and Buddhism. This variant is limited to 25 pieces, but we may order more if it sells out quickly, so please let us know if you'd like this design after it sells out!

About the Collection
Our Ume to Mejiro pin was the second 2020 Japanese Traditional Pin Club centered around celebrations in Japanese culture. Members received the original variant along with a sticker sheet, exclusive art print and plum-flavored candy. We currently run a Yokai themed pin club as well as our Pretty Winkers club.
Details
Size: 1.75"
Material: Gold Hard Enamel
Backing: 2 Rubber Clutches
Quality: Collector - B-Grades
Learn more about pin grading here.
Extra Features: Shishido Creative Backstamp, Cutouts, Screenprinting, Unique Backing Card
Shipping
Estimated Delivery: We ship from Seattle, WA via USPS First Class. It takes about 2-3 days for domestic orders. For international orders, it takes about 1-6 weeks depending on location. Learn more about shipping here. We now have the option to add insurance here!
If you are ordering with a pre-order item, it will ship when pre-order arrives.