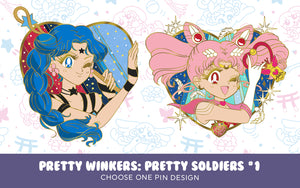 For fans of pretty characters that like to wink. Each month you will get:
♥ One(1) Collector-Grade Hard Enamel Pin of your Choice of monthly designs
♥ Trading Card
♥ Shipping Included for US
     International Members please choose international option
♥ Private Blog Posts
♥ Secret Shop Access (permanent discounts on almost all products, plus exclusive drops and products)


Long-term pin club members will receive time-based rewards at 3/6/12 month intervals.
To learn more about how our pin club works, please read the FAQ here.