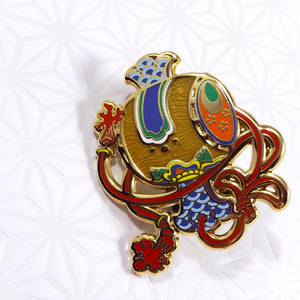 The uchideno kozuchi or "lucky hammer" can be found at many shrines in Japan. One of the treasures of seven lucky gods, it is believed you shake the hammer to open your luck. Bring this lucky hammer along with you to have luck on your side always!
Details
Size: 1.75"
Material: Gold Hard Enamel
Backing: 2 Rubber Clutches
Quality: Collector • Standard • B-Grade
Learn more about pin grading here.
Extra Features: Shishido Creative Backstamp, Cutouts, Recessed Metal, Translucent Enamel, Screenprinting, Unique Backing Card
Shipping
Estimated Delivery: We ship from Seattle, WA via USPS First Class. It takes about 2-3 days for domestic orders. For international orders, it takes about 1-6 weeks depending on location. Learn more about shipping here. We now have the option to add insurance here!
If you are ordering with a pre-order item, it will ship when pre-order arrives.