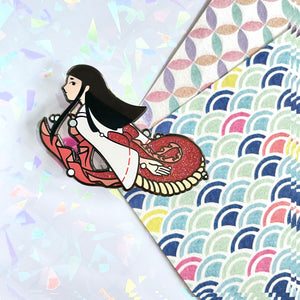 Meet Jun, sea priestess with a dragon tail! She serves the sea dragon god, Ryujin, working hard to purify the oceans. This particular design we are donating 40% of sales to The Ocean Cleanup.

Jun pairs well with 2021's Uriko, or 2020's Umi, Ama-chan or a handful of the shell board fillers.
Details
Size: 2"
Material: Black Nickel Hard Enamel
Backing: 2 Rubber Clutches
Special Features: Screen Print, glitter, backstamp

Shipping
Estimated Delivery: We ship from Seattle, WA via USPS First Class. It takes about 2-3 days for domestic orders. For international orders, it takes about 1-6 weeks depending on location. Learn more about shipping here. We now have the option to add insurance here!